Gallery 1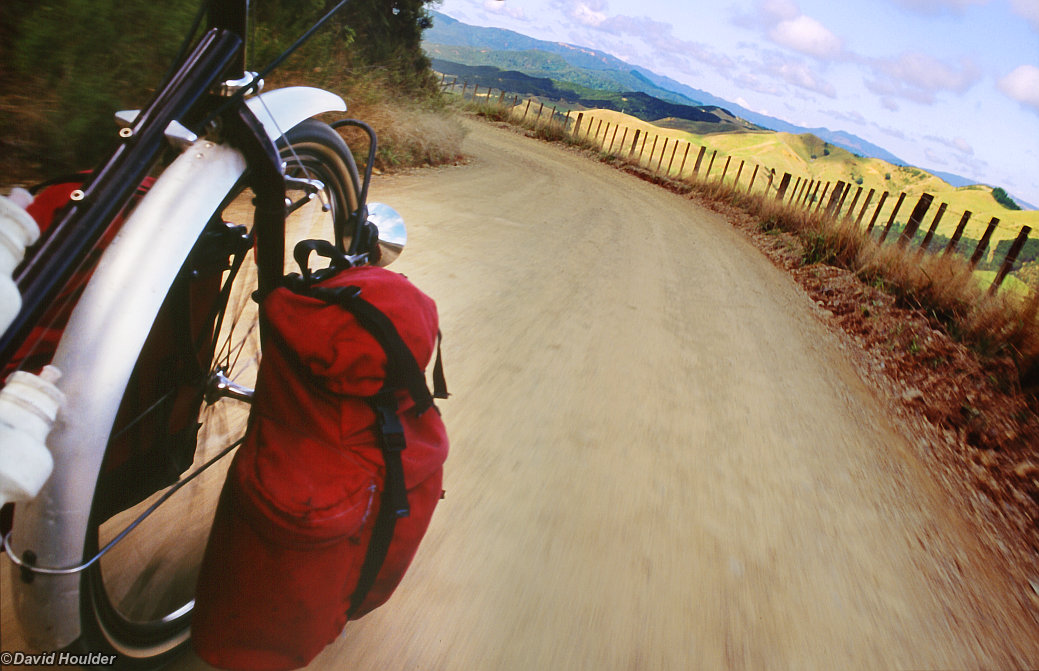 Downhill to Kennedy Bay 🔗
Yes, I was riding the bike when I took this photo. and no, I wasn't looking through the viewfinder. I put the camera on a stubby little tripod I was carrying, preset the focus and exposure, and set the self timer. It was then just a matter of starting the timer, holding the camera out to the side by the folded-up tripod and getting up enough speed to get a good amount of motion blur in the foreground. There's a good deal of serendipity in the composition - the self-timer chose the decisive moment here.
Corromandel Reflection 🔗
The Corromandel peninsula is the thumb sticking up from the eastern side of the North Island of New Zealand. This is the one of the views you get when you're riding up the west side of the peninsula. I'm told that you can now do a loop of the whole peninsula by bike, but when Giff and I did this ride in 1993 you had to get a bloke with a tin boat to take the bikes around the northern tip because the walking track wasn't ridable.
Pryors Hut 🔗
Pryor's Hut is just off the fire trail that runs from Mt Ginini down to the Cotter River in Namadgi National Park. The hut itself is right on the ACT/NSW border, the view from the toilet is sublime, and the trail from there is pretty much all downhill to the Cotter about 15-20km away.
Old Cotter bridge 🔗
A quaint old bridge that used to cross the Cotter upstream of Corin Dam. Its gone now, but there's a usable but not so attractive ford a little way downstream.
Afternoon in Orroral Valley 🔗
Orroral Valley is the next valley east of the Cotter. Its a naturally treeless frost hollow where the heavy soil and the cold air draining from the surrounding hills creates an environment that most trees can't tolerate. The dominant vegetation in frost hollows is usually a thick blanket of lumpy tussock grass that makes for very slow going by bike, but there's a fairly good track through Orroral.
Giff at Oldfields Hut 🔗
Another quaint hut beside the Goodradigbee River in Kosciuszko National Park.
East Gippsland creek 🔗
This is from a 1999 tour around East Gippsland (Victoria, Australia), following the Baldwin-Spencer trail. The Ada River provides a lovely campsite before the long climb up to the Erinundra Plateau.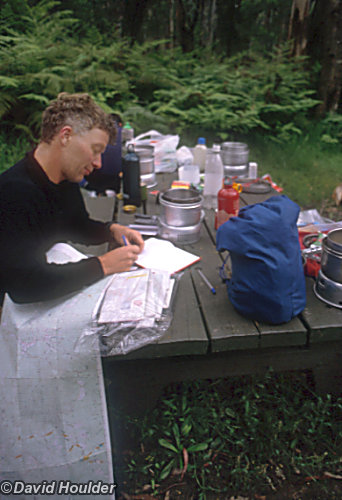 Contour lines... 🔗
Contemplating the long climb ahead.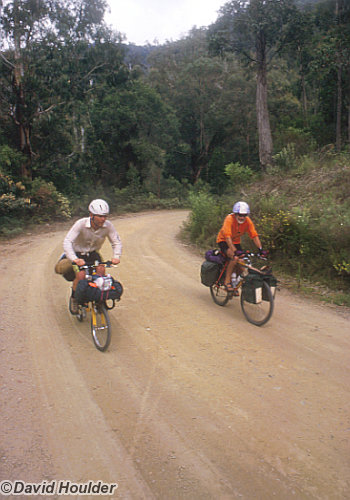 Up the hill 🔗
The long climb up to the Erinundra Plateau.
Erinundra Telopea 🔗
This is the southern version of the Warratah that grows around Sydney.
Back to the pub 🔗
The end of the East Gippsland trip. Heading back to the Bendoc pub.