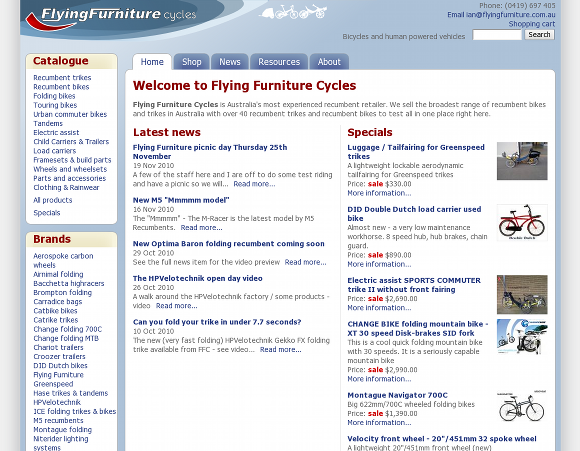 Flying Furniture Cycles
Flying Furniture Cycles is an online retailer of recumbent bikes, trikes and other specialist cycling products. For this site I used Drupal and Ubercart, Drupal's widely used e-commerce module.
In order to simplify the store owner's task of updating stock levels and prices, I developed a Drupal module that allows the stock data to be exported to comma-separated values files, manipulated with a spreadsheet, then imported back into the store. I've subsequently contributed this module to the Ubercart contributed modules repository, where it seems to have been quite well received.
While Ubercart provides a fairly comprehensive shopping cart system, many of the high-value products in this store are ordered from the manufacturer or distributor on demand, so I developed a product inquiry system for these cases. Any stock that isn't marked as "active" has its "add to cart" button replaced by an inquiry form that requests the customers contact details. Those details, along with the customer's product option selections and price information are saved as a product-inquiry webform and emailed to the store owner for further action.